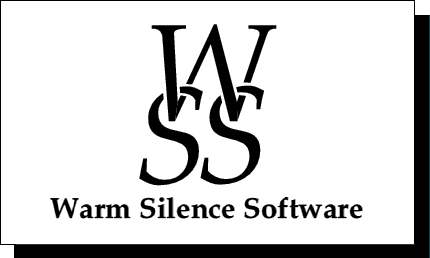 Who are we?
Warm Silence Software is a small, Oxfordshire based company set up in 1992 to produce high quality software for Acorn RISC OS machines, and more recently for Acorn Network Computing NCs. Since then we have worked on all manner of projects, consistently managing to do new and innovative things on smaller devices than you'd think possible.
Contacting us...
Email

Feel free to email us; we check our email frequently, so you should never been waiting more than 2 working days for a response. In practise we usually reply much faster. Pick an address from the list below:

Product Information:

General support:

Personal contact addresses:

Snail Mail

Our conventional mail address is as below:

Warm Silence Software,
22 Hollybush Road,
Hook Norton, Banbury,
Oxfordshire,
England
OX15 5LY

Telephone

We have a mobile telephone, so you can contact us wherever we happen to be. Feel free to call us and ask for a less expensive number of which you can call us back. This service is generally available at least during the hours of 10am til 6pm every weekday, but on rare occasions the phone will be turned off when we are in meetings. Just keep trying.

Our number is: 07885 487642

If you can't get through on the mobile, feel free to try phoning Robin at home on 01608 737172, but please realise that (1) this is a home number, and so calls at odd hours won't be appreciated, and (2) if he's out, you won't get to speak to someone that can answer your questions.

We realise that calling a mobile number is not an ideal situation, but the alternative, of not having any telephone support, is even less appealing.

Fax

Faxes can be sent to 01608 737172.
---
Copyright © 1996-2007, Warm Silence Software